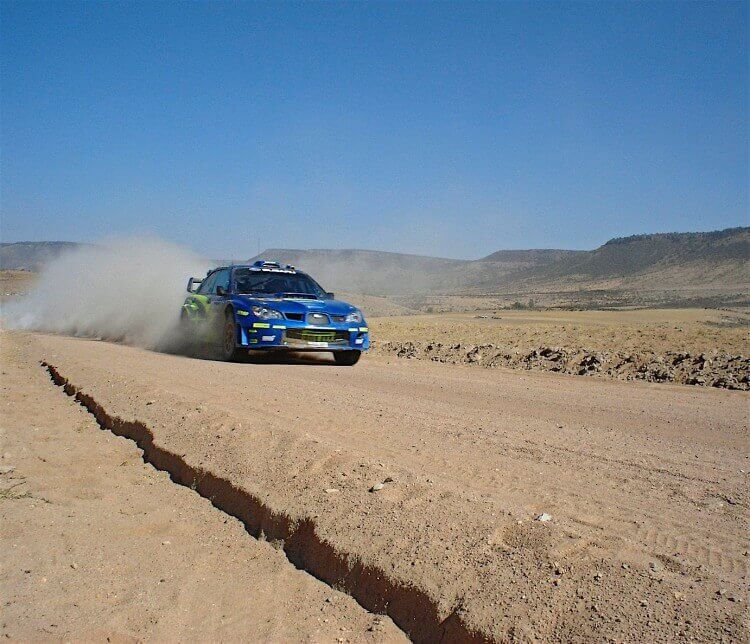 How do you become a rally driver?
We take a look at just how you become a rally driver in the UK
You've tried an IntotheBlue rally taster day and you've really got the bug, so how do you become a rally driver? If you want to start competing in rallies you'll need a licence. Here's how you go about getting a licence to become a rally driver in the UK.
1. Get your 'GoRallying' MSA licence pack
Competitive motorsport in the UK is governed by the Motor Sports Association and that covers racing, rallying and karting. Go to the MSA website and buy the GoRallying MSA licence kit. Inside is everything you need to go about becoming a licensed rally driver. It only costs around £99 and the admin cost of your first licence is included in this.
2. Take your test with a BARS member rally school
The British Association of Rally Schools (BARS) is the only body that is able to issue you with a BARS accreditation. You'll need this to be able to apply for your MSA Stage Rally National B licence. To get your BARS qualification you need to undertake:
– A written multiple choice theory test – a 30 minute test based on the MSA Blue Book's rallying sections and video (included in your MSA GoRallying pack)
– A driving assessment – an examiner will accompany you in a rally car and assess your driving for around 10 minutes
The whole thing lasts around two hours and you organise them at various BARS accredited rally schools around the UK. You'll need to take your MSA pack with you, including the licence application form that will be validated if you pass.
3. Apply for your licence
Once you have been passed by BARS, you will be able to apply for your very first rally licence (the cost of which is included in that MSA GoRallying pack you bought). Once you've received it, you're qualified to be able to compete in Stage Rally competitions in the UK.
After you've got your stage rally licence
Having got your MSA Stage Rally licence, that's just the beginning. You'll need somewhere to race, the rally car, and ultimately the co-pilot.
Where to compete in a rally in the UK
Whilst the pinnacle of the rally world is securing a team and a drive in the World Rally Championship (WRC), there are hundreds of licensed rally drivers in the UK with a wide choice of rally series to compete in that'll allow you to hone your skills.
On the MSA Championships page you'll find links to all the competitive motor sports series in the UK. One of the main series for becoming a rally driver in this country is the Prestone MSA British Rally Championships (BRC) (there are also Scottish and Welsh Championships). Within the competition there are different classes according to the type of car you're driving, including a specific junior racing series too.
Other organising bodies include the British Trials and Rally Drivers Association (BTRDA), which organises the BTRDA Rally Series. Then there are events like the Autosport News Circuit Rally Championship which is slightly different, in that races are on tracks. The series features several different challenges and cups to compete in at circuits around the UK  – the very same circuits where many of our supercar track day experiences take place.
Your rally car:
For Stage Rally competitions you need a car that complies with all the current MSA regulations. Thats to say, modifications such as adding roll cages, special rally-grade seats with multipoint harnesses, fire extinguishers and other safety features.
You can buy converted rally cars that are ready to go, or you can get a specialist company to modify a standard road car. You can even do it yourself. Needless to say, it's not cheap to buy, convert and especially maintain a rally car – rallies are tough races that take it out of the cars.
The rally co-pilot:
Sitting next to every great rallyer is a great co-pilot. Their role up front in the passenger seat is navigator, reading the organiser's pace notes that give details of all the bends, crests and drops of the course, so the driver knows what's coming up next.
They might not be as well known as the drivers, but serious kudos to the co-pilots who keep it all together in the car during the race. So, when you start competing in stage rallies you'll need one. Again, the process is pretty similar to becoming a rally driver and you can read one co-pilot's journey to become an international qualified rally navigator for more info.
Congratulations! You've just become a rally driver!
You've got the licence, you've got the car, you've got the co-pilot – you've become a fully fledged rally driver, now it's time to get out there and compete on those Stage Rallies!