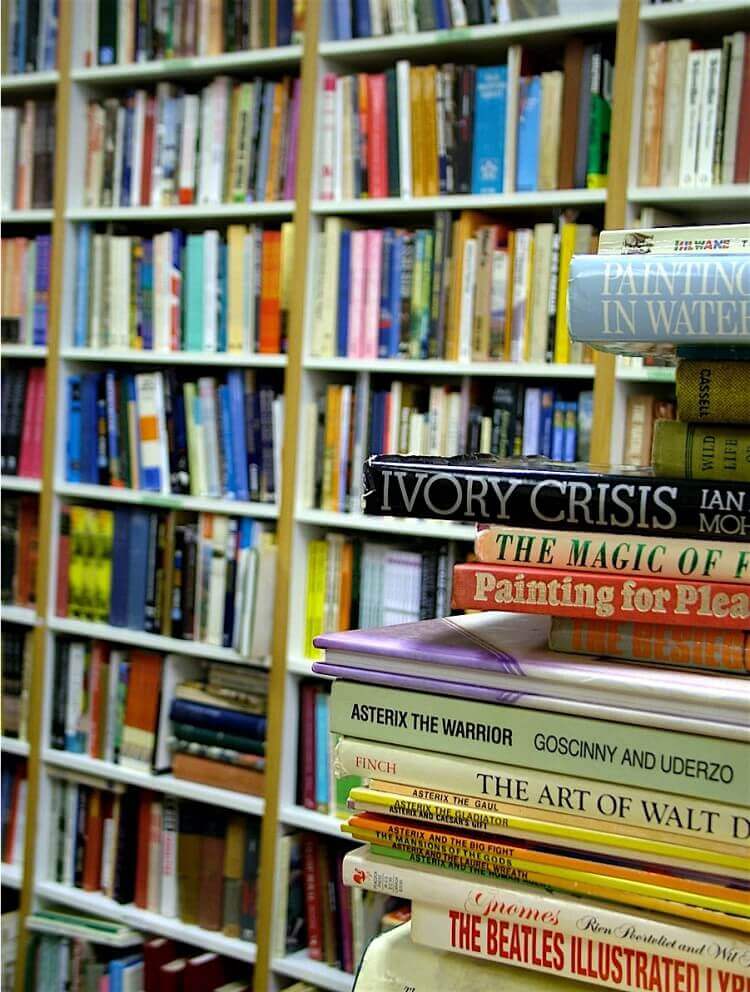 It's a page-tuner on National Read a Book Day!
It's National Book Reading Day!
We're loving the literature on National Read a Book Day! Wednesday the 6th September 2017 has been designated this year's day for taking a bit of time out, putting down your smart phone and dusting off that book that you've been meaning to read for ages and getting stuck in.
Of course, it's highly unlikely you'll be able to read that book from cover to cover, but the idea of National Read a Book Day is to get you reading again. Maybe you could start by reading the kids a favourite bedtime story out aloud? Then once they're in bed, make a cuppa and instead of turning the telly or scrolling through Facebook and Instagram, go and sit on your favourite chair and open those pages. If you haven't got time to sit down and read anything, how about putting on an audio book CD when you're in the car?
What are you doing for National Read a Book Day?
In fact, there are loads of other ways to mark National Read a Book Day. Why don't you take that bag of old books to the charity shop so others can have a good read? If you've got some birthday presents to buy, how about buying them a book? It could be the latest best selling chick-lit for their next holiday read. A new recipe book recently published by their favourite chef. Maybe a fascinating autobiography of their favourite sports man or woman. Or even a wonderful one year book subscription based on their reading tastes? You could even magic the kids into their very own fairy tale story with a personalised printed book!
Books can educate, inform, motivate, entertain and help you wind down after a busy day – they're literary food for the soul and mind.
To celebrate National Read a Book Day, we decided to ask some of the IntotheBlue team what's on their bookshelf and what they're currently reading. As you can see, tastes are pretty eclectic in our Biggin Hill HQ, but maybe some of the picks will inspire you to pick up one of these talked about tomes and get reading!
The self-confessed geek:
Eider our SEO queen and social media guru switches and swaps books all the time, so she's currently reading three books:
'Ready Player One' by Ernest Cline. It's a sci-fi set in 2044 and Wade Watts is a virtual reality egg hunter. It's currently being made into a film by none other than Steven Spielberg, for release in 2018 starring Tye Sheridan as Wade, so read it before the film comes out!
'Off to Be the Wizard' by Scott Meyer. Martin Banks goes back in time to be a hacker – in King Arthur's Court; who'd have thought!
'Rise of the Robots: Technology and the Threat of a Jobless Future' by Martin Ford. Just the title of this one scares us a little. Here's hoping Big Boss Jim doesn't get his hands on a copy that gives him ideas…
The holiday reader:
Natasha oversees all our products. She's not a big reader at home, but devours books when she's on hols. Here are the page-turners she read this summer:
'Camino Island' by John Grisham. In a bit of a departure from his usual crime fiction thrillers, Grisham's summer 2017 release focuses on the case of the stolen rare manuscripts. His 30th novel is a proper holiday page-turner.
'The Duchess' by Danielle Steele. The world's best selling living author (800million books sold and counting) changes tack for this latest tome. We're in 19th century England and the heroine is Angelique Latham, daughter of the Duke of Westerfield. Having already lost her mother, when her father dies everything changes….we don't want to tell you anymore!
'Me Before You' by Jojo Moyles. A tearjerker of a story that sees Louisa Clark looking after Will Traynor, a once-active young man paralysed in a motorbike accident. Romance, drama, sadness and family. It's all in there and this multi-million selling novel got turned into a film in 2016.
The drama lover:
When it comes to books, Darren, who head up out products and suppliers team, loves the drama. This is what he's currently reading on National Read a Book Day:
'An Evil Cradling' by Brian Keenan. Darren's bed time reading certainly isn't light reading. It's the autobiographical book of Keenan's 4.5 years as a hostage in Beirut, where he was held with fellow hostage John McCarthy. It's a moving tale of brutality and friendship.
His all-time favourite book is actually a science fantasy western series. The 'Dark Tower' books by Stephen King were released over three decades. They tell the story of Roland Deschain, who's the last living member of a knightly order known as the gunslingers. His mission is to find the Dark Tower, a fabled building said to be at the centre of all universes. And the summer of 2017 saw the release of the film The Dark Tower a continuation of the books, starring the very watchable Edris Elba.
The phonics pro:
James, our e-commerce boss has a young son. You can probably tell straight away where this is going. We'll let him explain in his own words about his latest reading habits:
'Biff, Chip and Kipper' – Oxford Reading Tree publications. 'Although I did manage to squeeze a couple of chapters of Dr No in a couple of weeks ago, my current reading is all about the various adventures of Biff, Chip and Kipper that I enviably read with my four year old son."
Ah yes, many a parent will know off by heart that time the trio (along with dog Floppy) went on a desert adventure, or know all about Grandma's new blue shoes. This educational series of books, which prepares children for reading phonetically, has been a bookshelf staple for over 30 years.
James also told us his all-time favourite book and it's a classic. 'The Sign of Four' by Arthur Conan Doyle is the second Sherlock Holmes novel and has been adapted for film and television numerous times. Holmes and Watson step in after Mary Morstan's request for help following the disappearance of her father, the mystery of the anonymous gifts and the letter asking her to meet an unknown person…
The autobiography addict:
Caroline, who writes for IntotheBlue is in a similar predicament to James. Her current reads include 'anything by Julia Donaldson and Axel Scheffer, the laugh-out-loud 'Oi Frog' and 'Oi Dog' books by Kes & Claire Gray and the mega colourful story books by Stephen Davies with great titles like 'Don't spill the milk' and 'Goggle eyed goats'. Yep, you guessed it, Caroline mostly reads children's books with her young son.
Before kids, she loved a good autobiography. Anything from 'The long hard road out of hell' by Marilyn Manson and 'A bone in my flute' by ex Frankie Goes to Hollywood star Holly Johsnon, to ballet dancer Deborah Bull's 'Dancing Away' and Bradley Wiggins' 'My time'. Since becoming a parent, she highly recommends the hilarious 'Hurrah for gin' by Katie Kirby for 'making you feel normal'! Here's a little example of what she does…
That's just a little taster of what some of the members of the Intotheblue team are reading this National Read a Book Day. We're off to put the kettle on and relax with a good book…