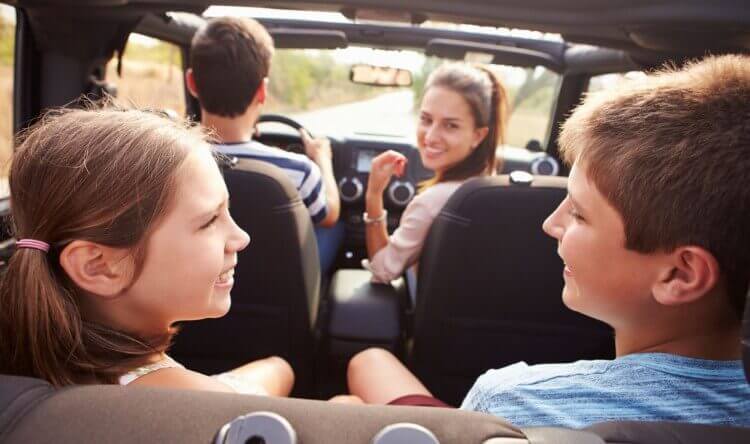 Holiday Helpline: How To Survive A Long Road Trip With Kids
Road trips. Two of the most fear-inducing words that any parent in the world could hear. Even the best parents out there will shrink with fear and suffer from terrific nightmares when it comes to spending their holidays on a long road trip with kids. For all of you parents who are about to go full "Abandon all hope ye who enter here", we have put together a handy guide with the best tips to deal with your kids on a car trip. No, no duck tape involved, as tempting as that sounds for some of you!
Talk to your kids about the destination
Before setting out on your fantastic holidays, it's a good idea to talk your kids about the destination, what's going to happen during the trip, what to expect and the activities planned for the whole family. One or two days before the journey would be the ideal time, enough to get them excited and not make you go crazy. Just try not to oversell it too much or you won't hear the end of it!
Prepare for a longer trip and lots of stops
Being inside a car for hours gets really, really fast. So, make sure to do a few more stops than usual. The little ones will love the change of scenery and being able to stretch their legs and run around. Most resting areas tend to have picnic tables or playing areas for the kids, which is the perfect time for the whole family to relax and have some fun!
Pack their favourite pillow and blankets
Children sometimes can get a bit nostalgic and home-sick, especially on long trips that involve stopping overnight, and that's completely understandable! If your kids have a special pillow or blanket they love to sleep with, be sure to have them within reach so you don't have to dig through all the luggage. Nothing feels quite as comforting as sleeping with your own pillow and being surrounded by your cosy blankets, trust us!
Bring all the snacks!
Travelling with kids in a car with no snacks is the equivalent of a British person going to Spain in summer without sunscreen, no a good idea. And let's be honest, even adults get grumpy when we're hungry and there's no food around (at least not the food that we would like to eat). Be sure to pack enough snacks and drinks for the whole trip but don't abuse the sweets (seriously, you don't want a sugared up kid). Dried fruits, pre-made sandwiches, nuts, granola bars, cut up fruits and veggies or cheese sticks are the best go-to  snacks for many parents and kids never get tired of them!
Embrace gadgets and technology
If all hell breaks loose it's time to bring out the big guns, meaning every electronic device that has a screen on it and could help to calm down the Krakens that your kids have turned into. We know, we know, too much screen time is not a good thing, but believe us when we say they will keep you sane for a few hours. Remember to bring a DVD player, iPad filled with your kids favourite movies, tv shows and apps as well as any portable console your kids might have (like a Nintendo 3DS, Switch, etc).
Don't forget to pack all the necessary chargers, a few extra batteries and all the gaming accessories. You may want to bring a couple pair of headphones for your kids as well. There's a limit to the amount of children songs and games that a parent can listen to without going crazy.
Music, music, music..
You know what they say: "music has charms to tame the savage breast" and truer words were never spoken. Making a playlist with your kids favourite songs is a good way to keep them entertained and happy. The only downside is that you'll be listening to the same over-the-top cheerful songs over and over again – and then some. If you're feeling especially lazy, Spotify has already created a few different playlists for the little ones. Try to keep some balance and choose those ones that have at least some songs you don't completely hate, your sanity will thank you.
Pack some surprises
Everyone loves surprises, adults and children alike. One of the best ideas we've seen out there is to get a backpack for each one of your kids, and fill them with some new toys they may like. There's no need to spend a fortune either, just go to your nearest Poundshop and get some cheap toys, stickers or colouring books, kids will love you even more! Don't forget to get a couple of car seat trays, so the little ones have somewhere to play with their new fancy toys.
Don't entertain them the whole time
Nope, kids don't need to be entertained every minute of every hour. If they're busy with their own toys or even looking out of the window, just give them space and leave them alone for a while. This way, they won't be asking for your complete attention all the time and you won't feel as emotionally drained after you arrive to your destination.
Be as zen as possible
Easier said than done, we know. At the end of the day, the trip is happening and you will have to deal with it in the best way you can, so just go with the flow. Get yourself used to the idea that bad things will (most likely) happen: your kids will cry, they will spill drinks and food everywhere, they will throw tantrums and you'll be hearing the famous "are we there yet?" at least a hundred times. Try to keep the atmosphere calm and amicable, if you get frustrated, your kids will absorb the bad vibes like a sponge and it will make it worse. Adapt to every situation, be water my friend.
The Summer Holidays are coming to an end for the young ones but there's still time left to enjoy a last minute trip with the whole family. And, who knows, if you're lucky enough your kids will be so tired that they'll fall asleep straight away and keep snoozing for the whole trip!