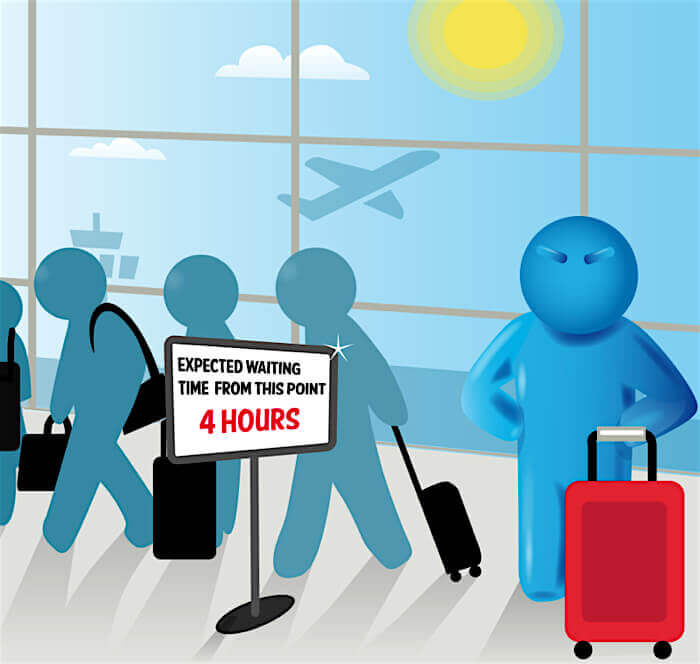 Beating Passport Queues For a Stress Free Holiday
Forget talking about the weather, discussions this summer have been all about passport queues. Travellers have been reporting lengthy queues at passport control at airports around Europe. Some passengers have queued for several hours to be cleared, meaning missed flights, frayed nerves and knock-on delays for onward travel too. We take a look at why passport queues are happening and what you can do to avoid them.
So why are there more passport queues at border controls now than before?
There are several reasons. Firstly, responding to requests from member countries, the European Commission has increased security checks at airports and borders in the wake of recent terrorist attacks. Secondly, it's the main summer holiday season and passenger numbers are at their peak. Thirdly, airports have been hit by strike action and staff shortages.
What do the increased security checks actually mean?
All passports have to be 'swiped' as identity checks against databases are made on each person arriving. This process literally takes only a couple of minutes per person, but when you think each plane arrives carrying maybe 100 passengers or more, queues quickly form at passport control.
There have been reports of British travellers being 'targeted' with longer queues is this true?
Yes and no. You need to look at the background story to the longer passport queues. EU member states requested increased security checks at external borders. Whilst the UK is currently still a member of the EU, it has never been a member of the Schengen Area. The Schengen agreement allowed the free movement of people around most European countries, making it a borderless state. This official EU document clearly explains Schengen.
For example, we've boarded a plane at Geneva and flown to Denmark without having immigration control when we landed going or coming back. That's right, nobody looked at our passport. And yes, Switzerland isn't a EU member state, but it is in Schengen. And Denmark is in the EU, but opted out of the Euro currency. The only time passports could be checked was to confirm a person's identity – like when you show your boarding pass and piece of id when you are about the get on the plane.
Since the Schengen agreement came into force in 1995, any flights originating from the UK (being a country not in the Schengen agreement) arriving in an EU country has meant immigration staff checking those passengers. People landing from Schengen countries literally walked straight through. So in essence, travellers from Britain (and any other EU country not in Schengen) have always been subjected to more rigorous checks than those travelling between Schengen member states. This is because Britain chose to not be part of the Schengen agreement.
So these passport queues are nothing to do with Brexit then?
No. For now, Great Britain is still in the EU. But who knows what will happen when and if the country does leave the EU. You just have to look at the queue for non-EU passport holders at large international airports like London Heathrow to see what it could potentially be like.
Why have the likes of Barcelona and Palma airports had such big passport queues then?
Well, it is mostly because these destinations see a huge increase in passenger numbers over the summer season. Some of the airports have also struggled with staff shortages. The situation at Barcelona airport has been exasperated further by strike action. As the Abta travel alerts explain: "Strike action by some security personnel is expected every Friday, Sunday and Monday throughout the summer. There will be one-hour stoppages taking place at 05:30, 10:30, 16:30 and 18:30 hours".
What does the airline industry say about passport delays and queues?
Thomas Reynaert, managing director at Airlines for Europe, the airline lobbying organisation says: "Queuing for up to four hours has been the top record these days. Airports like Madrid, Palma de Mallorca, Lisbon, Lyon, Paris-Orly, Milan or Brussels are producing shameful pictures of devastated passengers in front of immigration booths. The lines stretch for hundreds of metres. At some airports, flight delays have increased by 300% compared to last year — Member States must take the responsibility for this."
He continues: "A4E fully supports EU efforts to reinforce controls at external borders so as to preserve Schengen's free movement area. But Member States' inability to provide efficient resources is directly impacting European airlines' operations at European airports."
In the meantime, what can travellers do to avoid those big passport queues?
With heightened security checks at borders here to stay for the foreseeable future, passengers are looking for ways to avoid yet another long queue after check-in, security and queuing at the gate to board.
Here are our suggestions of what you can do to lessen the hassle:
Buy your way through the passport queues!
You can already buy 'fast track' access through security (that's where your hand luggage, you and any other belongings on you get scanned and controlled before going airside). Now UK airports are starting to offer Passport Control FastTrack for planes landing.
For example, at Manchester Airport, you can pay £5.00 to fast track the security queues on your way out and then pay another £4 for Fast Track Passport Checking. This gives you access to a 'dedicated lane and a faster route to Passport Control' on your way back in to Manchester. It's all bookable online, but it does depend which terminal you're flying from.
Fly off-peak
Geneva Airport recently published a report into the frequency of passengers at any given time of day, on any day of the week, during the winter and summer season of 2016. The conclusion was that Tuesdays, Wednesdays and Thursdays were the least busy. And the quietest time for getting through security was between 13:00 and 15:00 each day.
Travel to smaller airports
It might be worth looking into flights to lesser-known airports a little further out. Thanks to a survey carried out by CNN Travel, Paris Charles de Gaulle has the dubious honour of being dubbed the world's worst airport. If you want to fly to the French capital, it might be worth looking in to flights to Paris-Orly, Le Bourget or even the further afield Paris Beauvais. Depending on your onward travels plans, it could actually work out easier.
Of course, there will still be queues, but if staffing levels are not running at full capacity, extra staff can more easily be drafted in at smaller airports at key operating times. This is exactly what BBC Brussels correspondent Adam Fleming witnessed when he recently flew into Paris-Orly.
Don't fly at all…alternative holidays to beat the passport queues this summer
If you still want to get your fix of sumptuous wine, tasty cheeses and sunshine, think about taking the car. Of course, you have to make sure you're fully insured to drive abroad and it's prudent to get European breakdown assistance too. But once you've got all that, you could be whizzing along quiet motorways in no time.
We recently travelled on Eurotunnel at both off peak midweek times and over a weekend and experienced only a few minutes' wait at passport control. It also means you can load the car up with all the holiday things you can't fit into hand luggage or a suitcase in the hold. There's no 100ml liquid limit and you can (for now) bring all your favourite wines back with you.
You could also decide to staycation. Holidaying in the UK means you're taking a bit of a gamble with the weather, but we live on on island full of stunning locations that deserve to be explored. Gaze out at the Atlantic on the wild west coast of Scotland. Build sandcastles in the fine gold sand at Weymouth Beach. Watch the incredible sunset over the bay at Tenby. Just a few of the great places to see in the UK.
And rather than spend a full week in one place, you could split you summer hols into several short breaks within the UK. Explore some of the country's finest historic cities like York. Go completely 'off grid' in a wooden tree house in the middle of the Welsh countryside (no need for a passport and not a queue in sight!). Do something different like a murder mystery weekend, or an outdoor adventure weekend. You can even beat the French at their own game with a wine tasting weekend!