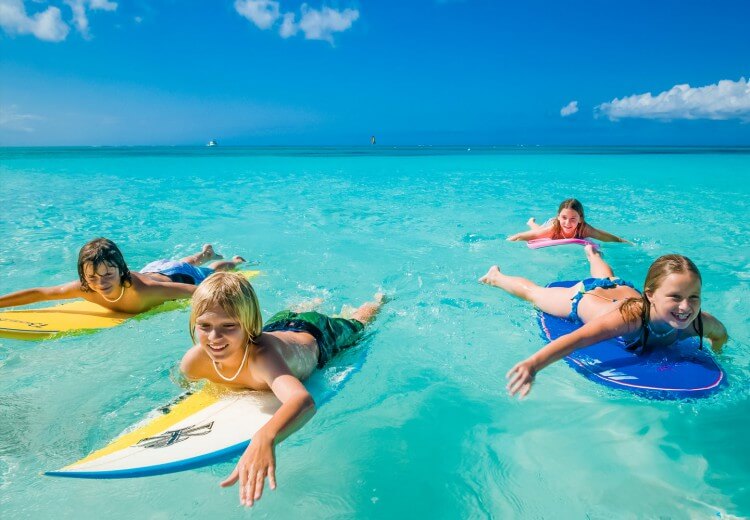 Testing The Waters? Best Family Water Sports Activities for Summer!
Everyone grab your sunglasses, it seems our dear Sun has decided to bless us with a few more days of beautiful golden rays! What better time is there to enjoy the delightful, but probably brief, British summer than going for a splashy adventure with the family? Perfect timing, now that kids are out for holidays!
Here is the IntoTheBlue guide with the best water sports activities to have a blast of a day with the whole family. All you have to do is take your pick!
Powerboats
They're fast, they're powerful and they're so much fun! Ever imagined riding the waves on a powerboat or inflatable race boat, with the wind in your hair and water splashing on your face? Well, time to fasten your seat belt and switch off your electronics devices because this one is going to be a speedy wet adventure! Whether you prefer the open waters near Britain's coastline or inland freshwater lakes and rivers, these turbo charged vessels can whizz over the waves with speeds of up to 125 mph, and it's also a great choice for those families who love a bit of adrenaline fun.
Surprise your family with an unusual but exhilarating and exciting gift they won't forget in a long time!
Sailing and Yachting
What is it about the sea that has attracted humans since the year dot? Maybe it's the freedom, open air and sense of adventure that the sea offers. Or, maybe, it's that relaxing calm and peaceful feeling that sloshing on the waves is associated with. Either way, sailing is one of the best experiences for those who love the ocean life. Have you ever dreamed about giving it a try but you weren't 100% sure? Don't worry! There are lots of beginner sailing courses with specialised instructors, so you won't feel like a fish out of water. Also, for those of you who are already masters of the waves, there are some lovely and action-packed experiences like Sunset Sailing or Vintage Barge Cruise.
Jetskis and Jetbikes
Another one for those with a need for a speedy fun adventure! Now is your chance to enjoy a day out with the kids in a water riding adventure and believe us when we say you're in for one of the best experiences of your life. You can choose between a two passenger experience (time to decide who goes with mummy or daddy and who goes alone!) or a family shared experience where an adult can drive accompanied by two children as passengers. Want to know the best part? There is no minimum age for children who ride as passengers!
So, who needs a fidget spinner when you have a jetski, jetbike or a jetRIB to choose from and a family ready to splash? Just take your pick and go enjoy some bumpy water rides!
Scuba Diving
Is the underwater world something that fascinates you, especially after watching "Finding Nemo"? Want to discover the secrets of the deep seas? Our beginners scuba diving lessons for adults (ages 10+) and children (ages 8-10) are a perfect introduction to the basic skills and concepts of scuba diving. With specialised centres all over England, you'll have the opportunity to learn in a controlled, safe environment and with the help of experienced diving instructors that will teach you all you need to know to master the art of diving: from hand signals, use of equipment or breathing techniques. All the scuba equipment will be provided to you on the day, all you have to bring is your coolest swimwear and a t-shirt.
Before you jump into the water and start swimming with the fishes, just remember to take a look at the medical requirements. Better safe than sorry!
Stand-up Paddle Boarding
Although some of you might have not heard about it before, paddle boarding is the latest addition to the water sports world and, in our opinion, one of the best options if you're not completely sure what to go for. Paddle boarding can be as relaxing or exciting as you want it to be and knowing how to swim isn't even a requirement (still useful though!) as a floating/buoyancy aid will be provided.
Start off your day with an introductory lessons where you'll learn how to stand on the rigid paddle board, how to keep your balance and a few paddle boarding techniques. Once you've got these in the bag, you're off and ready to master the waters! Whether you want to explore the beautiful waterways and lakes or prefer the feeling of the coastal wind in your face, paddle boarding is a very easy and fun sport to enjoy with your loved ones.
And there you have it – our best picks for a water sports holiday with the family. Want to see more water sports activities? We have a whole load more of options available.
So, water you wading for?!