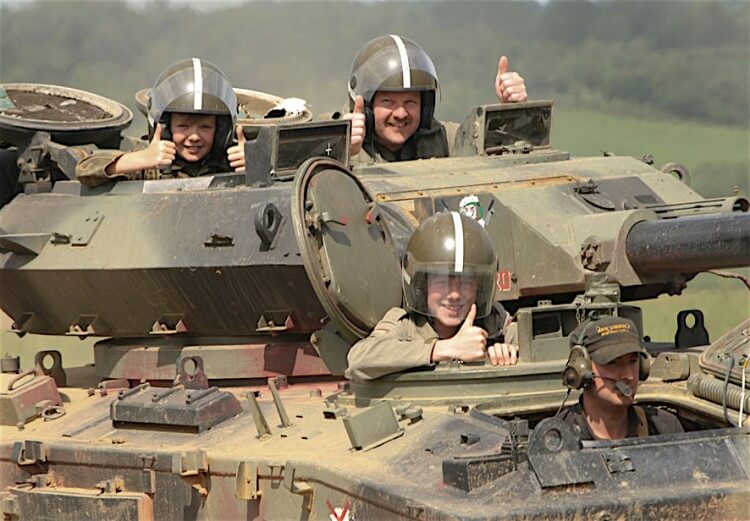 Last minute Father's Day gifts – on land, on sea and in the air
We've got a whole load of fantastic last minute Father's Day gift ideas for you. Whether your Dad's a land lubber, a bit of an old sea dog, or an aerial adventurer, we've got Daddy's special day covered. What's more, if you're up against it and don't think the post will get to you in time, you can opt for a free e-voucher, which you can then print out to give to Dad.
So, let's take a look towards Land, Sea and Air for our inspiration for our pick of the best last minute Father's Day gift ideas.
LAND
Tank driving Dads
We talk about our 'green and pleasant Land', which is all very nice, but sometimes our 'brown and muddy Land' is best. And that's because that's what tank driving is all about! One of our best-selling Father's Day gifts of all time, there's something about Dads getting stuck in to the mud with a fully-tracked military vehicle that they adore.
Military vehicle driving starts at just £29, whilst the 'Dads and Lads' (or lasses') tank day is a winner at £99 – and it means you, as their beloved son or daughter, can take part in the mud-filled tank driving fun too. Our top tip is a car crush tank driving experience. It's not cheap, but then it's not every day you can send Dad off in a 55-tonne Chieftain tank to go and drive straight up and over a car and squash it flat is it? 
Getting into Bushcraft with Daddies
Dad doesn't have to be as gnarly as Bear Grylls to enjoy a bushcraft experience. Whilst there's no climbing inside the carcasses of large mammals to try and keep warm, Daddy will be leaving the comfort of his favourite armchair and leaving the TV remote behind to survive in the wild for a while. That means foraging for food, making fires and building shelters.
If you're looking for a Father's Day present for the kids to give, we have a family bushcraft day in Surrey, so all the gang can enjoy life by the campfire together. But if these sound rather tame, we have got the original Bear Grylls Born Survivor bushcraft course that really will push them to limits, with an intense day hosted by members of Bear's team.
SEA
Dad's sailing away day
They say nothing beats the feel of the sea spray and wind if your face as you sail the open waters of the sea. As to how you get that feeling, there are several ways for Dad to enjoy the sea air. If they love a challenge, book them onto a dingy sailing course where they learn to sail solo. If you reckon Pops will think modern yachts and dinghies lack soul, how about a tall ship sailing experience? They can be a hands-on ship's mate for the voyage, or simply sit on deck and enjoy the sheer pleasure of being on such a beautiful vessel.
JetBoards for go-getter Dads
For daredevil Daddies who feel the need for speed, we have some rather action-packed ways to ride the waves. Our JetLev and Flyboarding section is packed full of madcap waterborne activities, but the maddest has to be Jet Surfing. Just as the name implies, this is a surf board, but with a built-in motor. No need to seek out the perfect swells to ride the 20ft barrels dude, surfing Dads can hang 10 on flat water!
AIR
Flying and Spitfire flights for Father's Day
Dads and planes. They kind of go hand in hand don't they? That's why the go-to section on our website for Father's Day is the Flying experiences page. Absolutely everything aviation-related is in here, from your 20 minute trial flying lesson in something like a Cessna, to a nice floaty hot air balloon ride.
But nothing could possibly prepare him for the ultimate air-bound experience ever: a flight in a two-seater Spitfire. Club together, raid their retirement fund and roll all their birthdays into one to give them that once-in-a-lifetime chance to fly in the wondrous Spitfire, with that Merlin engine sound we all know and love.
Drone flying – Dad's new thing!
Equally aerial, but an experience where Dads keep their feet firmly on the ground is drone flying. With advances in drone technology, it's become far more accessible, which is why drone flying is becoming really, really popular. There's even a whole competition sport based around drone racing. Even though it's a world away from their youth when they got into sticky situations with AirFix kits and superglue, Dads are bound to love piloting a high-tech, high-definition quadrocopter!
Land, Sea and Air just for Dad
All these and a whole load of other experiences that take place on land, at sea and in the air are all available now on intotheblue.co.uk. And whilst they make superb gifts for Father's Day, they are fabulous presents to give for anyone you love on any occasion. Have a browse and find that perfect day out for Daddy that'll make him really smile with utter glee this year. And don't forget, you can buy online and opt for an e-voucher, so you can print out your gift for Dad at the very, very last minute if you need to!