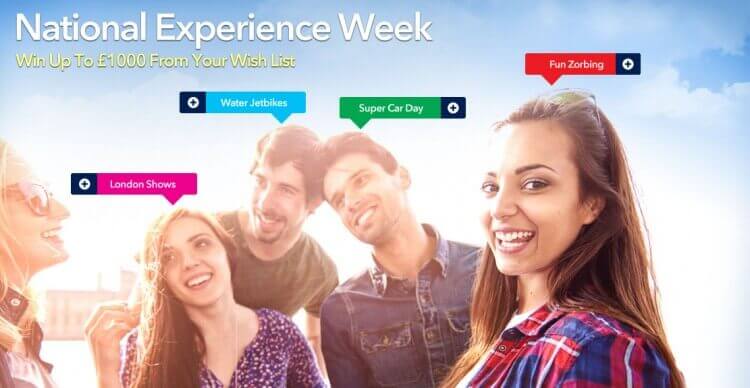 Big dreams, big prizes with National Experience Week 2017
National Experience Week is back for 2017! Between the 17th and 26th April 2017 we are encouraging everyone to experience something new. Whatsmore, with our massive National Experience Week competition, you don't just dream about the experiences ever, you win too them!
Yes, it's that time of the year when you can officially throw caution to the wind and actually do that activity you've always fancied doing. Maybe you've not had the gall…the money…or the time to before, so with National Experience Week it's all about encouraging you to really go for it. And, the by entering our competiton, you could make your dream experiences a reality.
What prizes are up for grabs for National Experience Week?
One lucky winner will walk away with a bundle of their wishlist of favourite experiences worth up to £1000. Another two social media-savvy bods will be awarded with a £100 activity gift token to spend on any experience day on our website.
So, how do you enter IntotheBlue's £1000 National Experience Week 2017 competition?
All you have to do is build a WishList of at least two products, and then post on Twitter or Facebook (or both!) and tell us how you're celebrating National Experience Week. You do that by browsing our products and adding the ones you want to win to your personal WishList.
When you've found an experience, simply click on the 'Add to Wish List' button (which you'll find just to the right of the activity name) and after you've entered your email address, you will have created your WishList.
You need to add at least two experiences to your WishList to be eligible for the competition and to validate your entry you just need to our Facebook page or Tweet using #nationalexperienceweek and tell us what you're doing to celebrate.
Remember, the maximum experience bundle value you can win is £1000, so pick your experiences carefully…
Need more info?
All the information you need to enter the competition is available on our 2017 National Experience Week page. This is also where you'll find all the small print and those dull, yet essential, terms and conditions.
More chances to win
As well as giving one lucky winner their wishlist up to the value of £1000, we will also be giving away two further prizes. Two runners up will each receive a £100 gift voucher to use on our website. So, if you don't win the main prize, you could still be in with a shout of winning.
Here's a little Facebook post to give you an idea of the sort of thing you can do…
Need some WishList inspiration?
Now you know how to you enter our 2017 National Experience Week competition, let's get the ball rolling with some brilliant experience ideas that you could add to your WishList.
See your name in lights when you sign up for a Neon Workshop. Spend a day cutting and shaping glass tubes to make your neon sign, then fill it with noble gases. Enjoy that amazing moment when you switch it on for the first time to quite literally light up your life with your very own neon light creation. It's a bargain too, as the experience is on offer at moment, reduced to just £45, including taking your light that you get to take home with you.
That leaves you plenty of scope for adding something rather fancy like an exclusive yacht charter day, where you and your friends or family set sail from Brighton marina to spend a day on the open seas onboard a lovely sailing yacht. The boat comes complete with crew, so you can just chill and enjoy the views, or get stuck in with sailor duties on deck. It's all totally bespoke to you, as the yacht has been exclusively chartered just for your group.
If you're more of a land lubber, how about a weekend break in an Airstream? These authentic 50s and 60s American caravans give glamping a new, authentic twist on the Isle of Wight. Each Airstream is an original and every one has been individually furnished, right down to the 1950s board games and classic stripey cloth deckchairs on the veranda. Breaks for two are offered at £199 for two nights.
Those who constantly feel the need for speed, will love our Shredder experiences. These are the latest slightly madcap gadgets to ride. More rugged than Segways, with double tracks like a mini tank, it's a bit like snowboarding with the stance you adopt on the board. As you can probably tell, it's easier to actually ride a DTV Shredder than it is to explain what it's all about. A great experience to add to your WishList if you're a bit of an adrenaline hunter.
And of course, we're well known for our massive range of great value flying and driving experiences, with everything from drifting days and drives in fast Ferraris, to exclusive Spitfire events and wing walking experiences. So have a browse and choose your dream experience days to win.
And the competition closing date…
Our National Experience Week competition for 2017 closes at midnight on the 26th April 2017, so get hunting out those experiences, add them to your WishList and tell us (and everyone) about it to be in with a chance to win them all.
Good luck and we will announce the winners on here and through our social media after the competition closes.