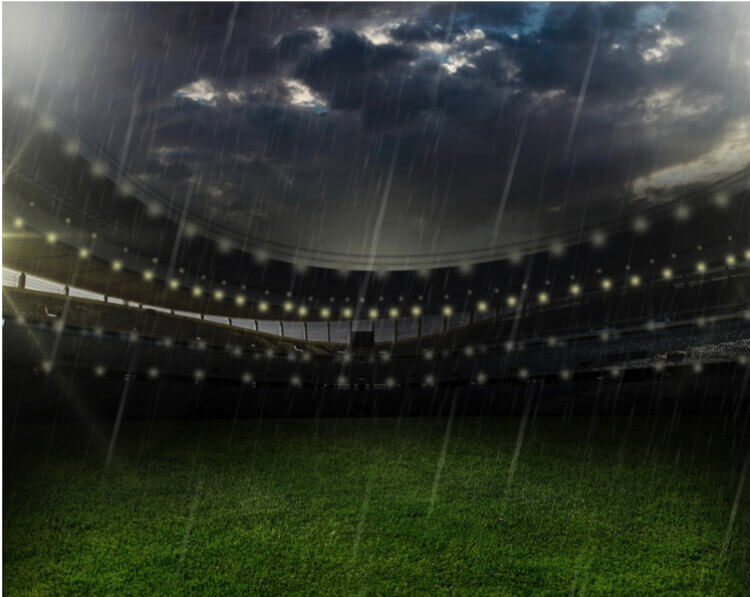 Why don't more stadiums have roofs in the UK?
Given the fact that it tends to rain quite a lot in the UK, have you ever asked why don't more stadiums have roofs in the UK? We've taken a close look at roofs and stadiums to find out what the score is – and it's fascinating stuff.
Doesn't the Millennium Stadium have a roof?
Yes, Cardiff's Millennium stadium has one, but it's certainly the exception. In fact, it's actually the second largest capacity stadium in the world with a fully-retractable roof. And indeed, it's a roof that makes headlines as it did during the Six Nations Rugby Tournament 2017 for Wales vs England. Wales wanted the roof closed, England wanted the roof open. Cue Twitter chat galore or why and what difference it'd make.
So what was decided?
The rules state that both teams have to agree for the roof to be closed and once it's closed it can't be re-opened during the match. So without that unanimous agreement t was an open, not shut case this time. As for why Wales wanted the roof closed, well, it was apparently a question of ambiance and atmosphere for the match, allegedly so the Welsh rugby fans could intimidate the away fans with their singing!
In that case, why bother having a roof at all on a stadium?
Well, if the stadium is multi-use venue, a roof can be very useful and this is the case with the Millennium Stadium. It means the arena can host everything from showcase events like the indoor special Welsh rally stage, boxing matches, cricket and pop concerts without anyone (particularly the spectators) getting wet.
OK, so why not just have a permanent roof rather than a retracting one?
It's simply because for sporting events, the turf needs to be open to the elements to flourish. But of course, most clubs want their supporters to have some protection from the elements, which is why most stadia have roofs that partially cover the grandstands. But this in itself can cause problems with shadows being cast over half the pitch and so on, but that's a whole different ball game, so let's stick to retractable roofs for now.
In that case, why don't more stadiums have retractable roofs then?
In theory a retractable roof is the best option, as you can host 'indoor' events, nurture your hallowed turf for rugby and football and close it to prevent fixtures being cancelled. But in practice they are usually cost prohibitive. As we mentioned, Cardiff is one of only a handful in the whole of Europe and it's certainly the biggest, with its 74,500 capacity.
The cost is so high as a full roof sitting above the huge expanse of a stadium that can move fully in or out is a serious piece of engineering. The Millennium Stadium roofs has 4,500 components, 3.2km of tensioning cable, 200,000 nuts and bolts, and weighs in at 400 tonnes. And whilst it cost a cool £121 million to build, it costs just £2.54 (in electricity) to open and takes 20 minutes.
So that's football stadiums with roofs, what about other sports?
Well, the only other famous stadium with a roof in the UK has got to be Centre Court at Wimbledon. Tennis is a sport that suffers from poor light and rain stopping play, so we're back to how inclement the British weather can be.
Centre Court got its fully retractable roof costing £100 million in 2009, along with a facelift that raised the roof to add in another 1500 seats. And, whilst it takes only 10 minutes to open or close, it takes up to 45 minutes for the air conditioning to acclimatise the stadium.
What are the rules of the roof closing or opening on Centre Court at Wimbledon then?
Once again, there are strict rules as to how and when the roof is closed or open and involves considering the best interest of the players, the media, the officials and even the spectators. Once the decision has been made, the roof must remained closed until the end of the match. It can be closed in  the middle of a match, but play suspended whilst the roof is closed.
So has the roof been closed quite a lot?
The very first time was in mid-match in 2009 during a four-hour women's ladies singles match. The first tennis match to be played entirely under cover was Murray vs Wawrinka. Natural daylight meant that a match had never gone on much past 9pm on Centre Court, but with that roof closed, play carried on until the match finished way past 10pm.
That'll pave the way for late night tennis at Wimbledon then?
Not exactly. You might remember the epic four-set, third round match between Murray and Baghdatis in 2012? Well, it finished at precisely 11:02pm, actually exceeding the local council-imposed 11pm curfew to avoid late night noise and nuisance from spectators leaving Wimbledon late at night.
Well, how about another Wimbledon court with a fully retractable roof then?
Funny you should mention it, as work is scheduled to be completed on Number 1 court by 2019 to give the All England Lawn Tennis and Croquet Club its second retracting roof. We'll let Greg Rusedski tell you why it's a good thing: 'In modern times you need to have live sport all the time. If the weather is suspect at Wimbledon, it allows people to see love tennis, rather than replays of John McEnroe and Bjorn Borg playing in the 1980s'. Greg, we could't have put it better ourselves!
And Wembley. After all that money was spend rebuilding it why doesn't that have a roof?
Good question and one which many have asked. In fact, the Foster & Partners designed Wembley Stadium does have a retractable roof, 52m above the pitch, but it doesn't completely close. The idea was that every seat in the grandstands would be covered, but of course, which way the rain is coming determines whether you stay dry or not. It doesn't cover the pitch at all, so if you have standing ticket at a gig (where the pitch would normally be) you will be getting wet. Once again, there are rules to this roof – namely that once people are in the stadium the roof cannot be moved.
But you haven't told us why they didn't go for fully retractable?
Well, it's probably a question of cost again. The construction cost of the new Wembley Stadium came in at £757 million (that's in 2007) without a roof. Also, the stadium is so vast (the circumference is 1km and in terms of volume you can fit 25,000 double decker buses in there) a fully retractable roof would have been a major structural engineering quandary.
So to conclude, what are the main reasons why more stadiums in the UK don't have roofs?
1. Cost – covering large capacity stadia with retractable roofs is a major project
2. The fact that pitches need to be exposed to rain, wind and sunshine to maintain that finely manicured state
3. Use – the practicalities of using the roofs can be prohibitive to play and rules where all concerned parties need to agree can be complicated
4. Cost effective – if the stadium isn't multiuse with a diary full of profitable events, a costly retractable roof is hard to justify
5. Atmosphere – this one is totally subjective. Does playing under a roof increase or reduce the atmosphere of a match?
And finally…
If you want to get a bird's eye view of Europe's largest stadium with a retractable roof, did you know you can book a helicopter sightseeing tour over the Millennium Stadium in Cardiff? There are also options for aerial tours over many of the country's most famous football stadiums.