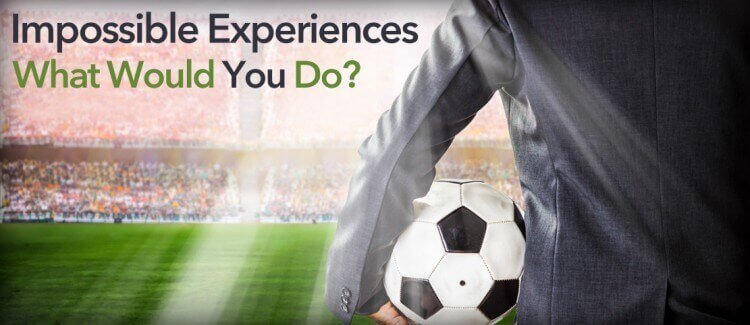 Win Win Win – The Impossible Experiences Competition 2017 Is ON
Our #Impossibleexperiences are back for 2017! The competition that got you all talking last year is now up and running again – and we're looking for your crazy experience ideas.
After a busy start to the year, we like to take a little moment in February to ponder what the world of activity gifts would be like if you could turn anything into an experience day.
The best suggestions by Twitter of Facebook using #Impossibleexperiences are rewarded with a £200 IntotheBlue activity token. And you'll have the honour of your Impossible Experiences idea being posted up on our website as a fictional product!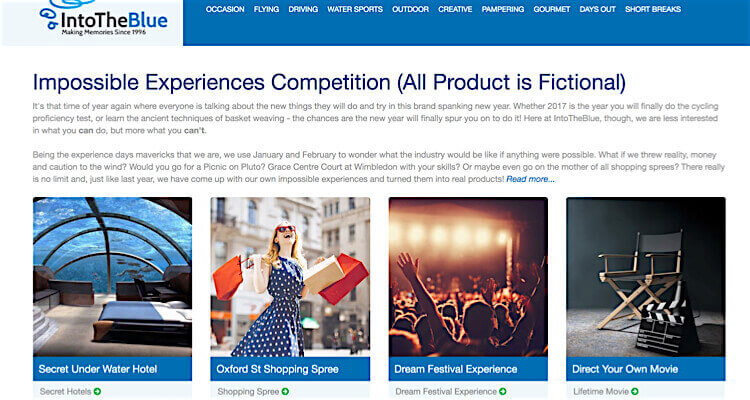 To explain further about #Impossibleexperiences, just imagine if money, time, reality and all the rest of it was no object. That means you could indeed sip bubbly in space when you book your Picnic on Pluto. Or perhaps you'd like to curate the line up for the best music festival ever, headlined by a supergroup featuring your favourite artists of all time?
Maybe you have a car-mad teen who'd love to have their car design made into a road-going prototype? It'd then be delivered to your door with a chauffeur to drive them to school every day for a month. Then again, maybe a a shopping spree along London's Oxford Street with a supercar to ferry you between your favourite boutiques is more you cup of tea?
Of course, no matter how desirable these experiences would be, they aren't actually possible. But don't let that stop you. In fact that's the whole point – it's about what you can't do rather than what you can do. So, let your creative juices go into overdrive and get concocting madcap and brilliantly indulgent Impossible Experiences.
And remember, once you've come up with your idea, use #Impossibleexperiences on Twitter or via our Facebook page to tell us about it.  And don't forget to check the hashtag to see what everyone else is wishing for!
You'll be automatically entered into the draw to win one of those rather tasty £200 activity gift tokens to be spent on any (very real) experience day featured on our website. Winners will also have their idea added to the official Impossible Experiences line up, just like a 'proper' IntotheBlue experience day.
The 2017 Impossible Experiences competition is now open and runs until midnight on the 28th of February 2017. Good luck.