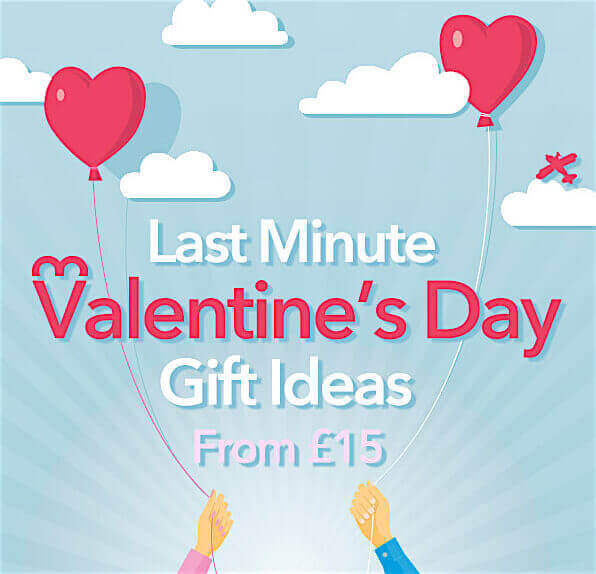 Love is STILL in the air, even if you've left it to the last minute…
Our Last Minute St Valentine's Gift Alert…
Red (heart) Alert! The deadline for next day delivery on our vouchers to be delivered in time for Valentine's Day is TODAY, Monday 13th February at 16:30!
That means there are just a few hours left to get that gorgeous gift bought, in the bag and delivered by post for your lucky loved one this St Valentine's Day. Of course, our e-voucher option (where you print out your voucher at home) is available 24 hours a day, seven days a week, so there's always a 'get out jail' option if you find yourself in a bit of a 'situation' on the 14th of Feb…
And if you're reading this and still not feeling inspired, despite the looming deadline, we thought we'd divulge a few of our best selling 2017 St Valentine's Day gift experiences. And can we just say, what a romantic, yet go-getting lot you all are eh?!
Flying off the shelves quite literally are our helicopter sightseeing tours. It seems you love the idea of whisking away your loved one for a spot of aerial sightseeing from 1000ft up in an executive helicopter. Whether it's over the Roman buildings of Bath, along the stunning Jurassic coastline of Devon, or looking down on Edinburgh Castle, you can't get enough of these brilliant voyages.
Then there's a pretty daring Valentine's Day gift that certainly offers something different to the usual box of chocs and flowers: walking up and over the famous O2 dome! Our Climb the O2 is attracting you loved up types in your droves. Who'd have thought an activity that requires 'sturdy footwear' would be so popular for a Valentine's Gift?
But of course, no-one can deny that good old chocolate is still a surefire winner. We've put an extra little twist on it with our experiences giving you the chance to make your own delicious cocoa-filled treats. Much more fun than simply buying them from the shop (or heaven's forbid from the 24 hour petrol station if you forget it's Valentine's Day!) and great value too, with Chocolate Making in London or Brighton starting at just £34.
Many of you are dipping a little deeper into your pockets to buy classic car driving experiences. We've got a superb range of cars on offer at the moment, with some excellent deals too. Do you reckon your other half would love to have a little taste of fast and furiousness driving a classic American muscle car? Or perhaps they are more about the classic British motoring behind the wheel of an original (and best!) Mini Cooper S?
These are just a few of the best selling experiences we have on offer. Check out or handpicked selection of Valentine's Gifts for more inspiration. Happy St Valentine's Day – we love you all!