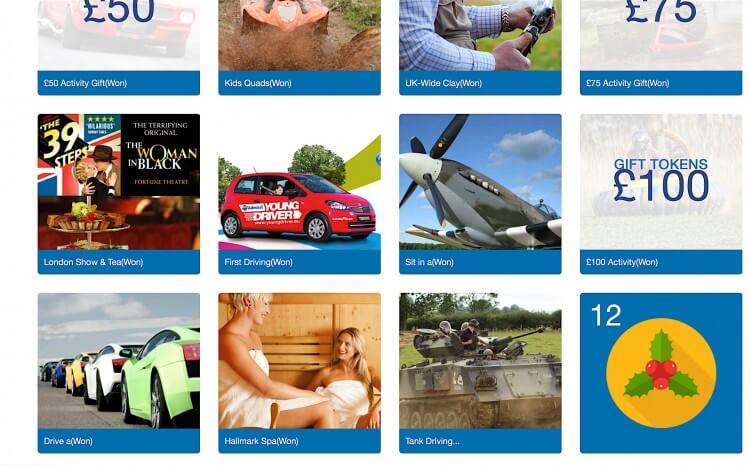 The 12 days of Christmas Gift Giveaway – your last chances to win!
Since launching our 12 days of Christmas Gift Giveaway on the 5th December, we have been giving away fabulous gifts for you to give to your loved ones, or enjoy yourself. Now, as we get ever closer to the big day, we have our last couple of prize reveals to come…
So, let's congratulate the winners to date:
Day 1 – £50 Activity Token
Winner Barb Corrick is going to treat her daughters to a well-deserved Little Miss Makeover and Photoshoot with her token.
Day 2 – Kids Quad Biking
Lisa Sheldon sent a photo of her two boys looking nice and clean. We're hoping she'll send us an updated pic once they've been on their quad bike session in the mud and water troughs of the quad course!
Day 3 – Clay Pigeon Shooting
Emma Hedges entered our 12 days of Christmas Competition saying she simply wanted to give the gift to her Dad. We're delighted to say Dad will be on his way to the shooting ground to learn how to smash clays to smithereens courtesy of Into the Blue.
Day 4 – £75 Activity Token
Daphne Ormerod made an excellent choice when it came to telling us how she's going to use the £75 token she won. She's heading to London with her daughter to enjoy a posh afternoon tea in a fancy hotel, because 'she deserves a treat'. Ahhh.
Day 5 – West End Show and Afternoon Tea for Two
Jackie Robinson wins one of our star prizes in the Christmas Giveaway. It's not for herself though, she's planning on treating her daughter and boyfriend to day out in the capital with tickets to the West End show of their choice and a nice little teatime treat afterwards. One of our most popular gift vouchers for couples at Christmas time.
Day 6 – First Drive Lesson
Giving his son a valuable head start when it comes to being able to drive, our winner on Twitter, @Donzersdiatribe reckons his son 'is going to love, love, love it'. Let us know how he gets on with his first drive, aimed specifically at 11-17 year olds.
Day 7 – Sit in a Spit
Ah the Spitfire. Any experience involving anything to do with this iconic plane is a sure-fire winner. Julie Otford took home the prize and is over the moon that her hubby 'who's obsessed with Spitfires' will be sitting in the cockpit of a beautifully restored airworthy Spitfire at the Biggin Hill Heritage Hangar very soon.
Day 8 – £100 Activity Token
With her Christmas tree up and decorated but looking a little bit bare, Elaine Garrett was delighted to hear she'd one the token. She said she'd be 'wrapping it up to put under the tree' as an extra special Christmas gift this year.
Day 9 – Lamborghini Drive
There'll be one very happy Dad this Christmas Day after Grieg Spencer won the Lamborghini Drive experience that was revealed as the prize on day nine of our on-line Christmas competition. The reason for wanting to win was simple: 'I'm going to gift it to my Dad so he can drive some fast cars'!
Day 10 – Hallmark Spa Break for Two
Lucy Rigley will soon be chillaxing with her hubby after winning the overnight stay at a Hallmark Hotel and Spa of her choice. Get the robe and slippers on and relax!
So that leaves just two prizes left to be won on the IntotheBlue Christmas Gift Giveaway for 2016. Prize number 11 is a fantastic fully-tracked Tank Driving experience and we can exclusively reveal that prize number 12 will be an overnight break to an East Sussex vineyard. Who wouldn't want to stay overnight in a vineyard? A fabulous final prize that anyone worth their weight in grapes would want to win!
To enter, visit our Christmas Competition homepage for all the details of how to enter.
The last of the winner will be announced on Wednesday the 21st December 2016 at 10:00, just in time for the voucher to be posted and received by the winner in time for Christmas Day. Good luck and Merry Christmas from IntotheBlue's blog!