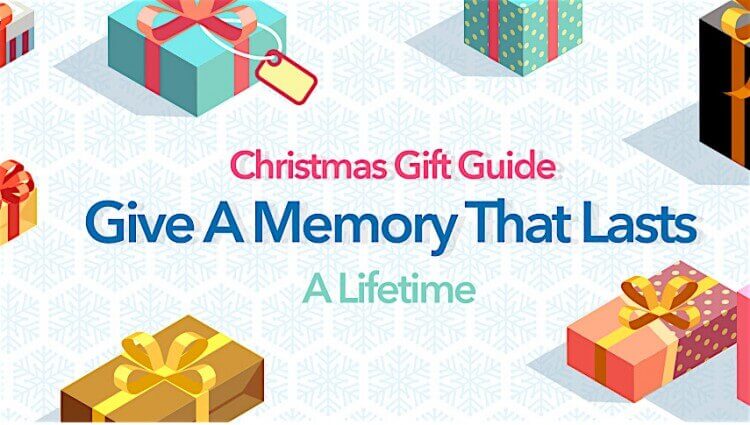 Be inspired by our best-selling activity gift vouchers this Christmas!
The top selling IntotheBlue gift experiences revealed
We've dug deep into the archives, number crunched until our heads hurt and come up with our top 10 best selling gift vouchers from this time last year to inspire you for your Christmas list this year.
Time's ticking and you really do need to start thinking about getting your Christmas gift shopping done. So without further ado, let's started. Counting down from 10 to one, here's what you bought for you loved ones as Christmas presents in 2015:
10. Trial flying lessons
Flying lessons are where we started and where we still shine brightest to this day. Our nationwide flying lesson voucher gives you maximum choice and flexibility, accepted by flight schools at airfields around the country. These flying lessons are great value too.
9. Scuba taster experiences
You won't be in deep water with this scuba taster course for two as a Christmas gift this year! The perfect way to give scuba diving a go, by seeing if you like it before doing your PADI qualification, these vouchers have been best sellers for years.
8. Segway riding
Riding these mad little gyroscopic transporters has always been popular, with our Segwaying at lovely Leeds Castle in Kent topping the podium of venues. Once you get the hang of them, you'll be off reaching parts of the castle estate not normally accessible to pedestrians.
7. Tank days
It seems you never tire of driving big tracked military vehicles around muddy fields! A perennial favourite, the ultimate day out with tanks is one where you get to crush a poor innocent car at the end of it!
6. Steam train dining
Our best seller by far is the Sunday luncheon on the Great Central Railway in Leicestershire. With excellent customer reviews, the food served onboard is really good (we know, we've been!) and journeying on the country's only mainline double track heritage railway makes for a unique experience. Oh and it's cameras at the ready when you stop to admire the views on the lovely Swithland Reservoir bridge!
And now on to our top five best selling activity gift experiences for the Christmas period in 2015:
5. Falconry experiences
A superb choice of gift for families to enjoy the great outdoors together. Kids love the cute owls, whilst grown ups never cease to be amazed by the speed and hunting prowess of these well-trained raptors. Who said a walk in the countryside was boring?!
4. Indoor skydiving
Get buffeted about in a vertical wind tunnel for a taste of what that freefall feeling is all about! You'll be a guest at your choice of iFly centre where the expert instructors will teach you how to 'fly' – indoors. It really is as thrilling as it sounds. And look out for the regular special offers on this activity too.
3. Glider flights
The gentleness of powerless flight is clearly a winner with you aviators. It's quite a unique sensation and a glider feels very different from any other aeroplane you can fly in. What's more, we've got gliding clubs the length and breadth of the country ready to launch you.
2. Climb the O2
Officially known as 'Up at the O2', this is one of those experiences that you have to see to believe. Who on earth came up with the idea of walking up, along and over the famous domes in London? Sounds like a crazy thing to do to us, but you loved it in 2015 and it's sure to be a best selling experience for Christmas 2016 too.
And finally, here is the number one best selling IntotheBlue activity gift voucher during the run up to Christmas in 2015:
1. Young driver lessons
Seems you can't get enough of giving your little ones a head start when it comes to motoring with these first drive sessions. Our stats geeks tell us this activity was actually favourite for grandparents to buy for their grandkids – sooner the young'uns get their licence, sooner they can drive the oldies round to the shops eh?
Don't forget, you can buy online from us at any time. Last orders for Christmas on standard delivery is 4.30pm on Wednesday the 21st December 2016 and last orders for Special Delivery is 4.30pm on Thursday the 22nd December.
Happy shopping!