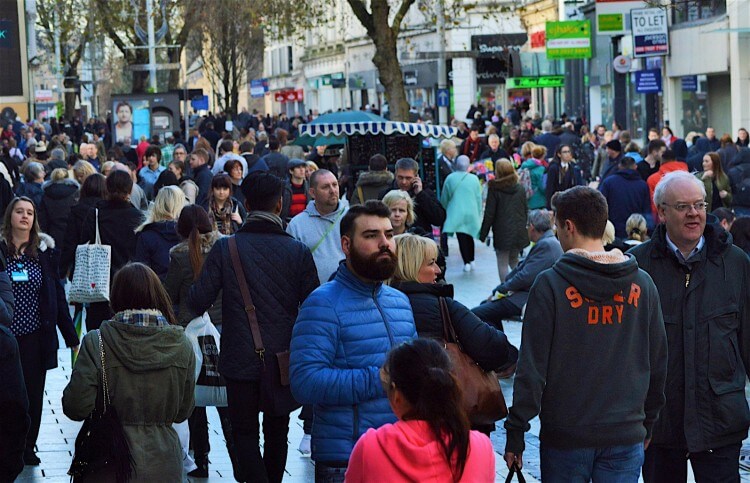 What? Why? When? Our Guide to Black Friday 2016
November 25th is Black Friday 2016! Despite what you might think, Black Friday in November has nothing to do with Stock market crashes (see Black Monday in 1929, Black Monday in 1987 and post-Brexit Black Friday in June 2016). Nor has it got anything to do literally partying until you drop on the last Friday night before Christmas Day, which was coined 'Black Friday' by the Police before the media labelled it 'Mad Friday'…
Black Friday on the 25th November 2016 is all about shopping for bargains!
Black Friday 2016 – shopping online to avoid the queues
Shopping for Black Friday bargains doesn't have to mean queuing at the cash tills, you can shop online instead! IntotheBlue.co.uk is taking part in Black Friday 2016 offering you some great deals on activity gift vouchers across our huge range of experiences. We've gathered together a tempting selection of special Black Friday deals for 2016 that include everything from discounted First Drives for the kids, to great value falconry days.
You can't beat Quad biking at just £59 (down from £118) and our 2 for 1 deal on clay pigeon shooting at just £85, to make but just two of our Black Friday deals this year.
What's more, we're going to be launching a fabulous Black Friday 2016 deal giving you a 10% discount across the site. We shouldn't be telling you this (so keep it quiet), but the code you need is BKF10. Shhhh don't tell anyone it was us here at the lil' old Blog who told you!
Black Friday facts 'n' figures
Just to finish off your Black Friday joy, we've got some fascinating nuggets of Black Friday info to amaze you with, as you get ready for the big event:
– Black Friday originates from the USA, where it's the traditional name for the big day of trading in the shops on the day after Thanks Giving, which is always the last Thursday in November
– In 2014 Black Friday made the headlines in the UK as customers fought over flat screen tellies in Tesco in Manchester!
– It's estimated that over £2 billion was spent on Black Friday in the UK in 2015
– In 2014 John Lewis's cash registers alone rang to the tune of £178m on Black Friday, with a tablet computer being sold every 20 seconds
– Amazon orders come rolling in at a rate of more than 64 items per second during Black Friday
– And to cope with all those orders Amazon, recruits in the region of 13,000 extra staff in the run up to Christmas
– 22 % of Brits say they've actually bought something in Black Friday sales, whilst 75% of you have heard of Black Friday
– Our best selling experience day during the Black Friday of 2015 was Segwaying, closed followed by 'Up at the O2' and indoor parachuting…let's see what Black Friday 2016 brings!
Oh and don't forget, if you miss out on the Black Friday deals, it's closely followed by Cyber Monday on the 28th November!