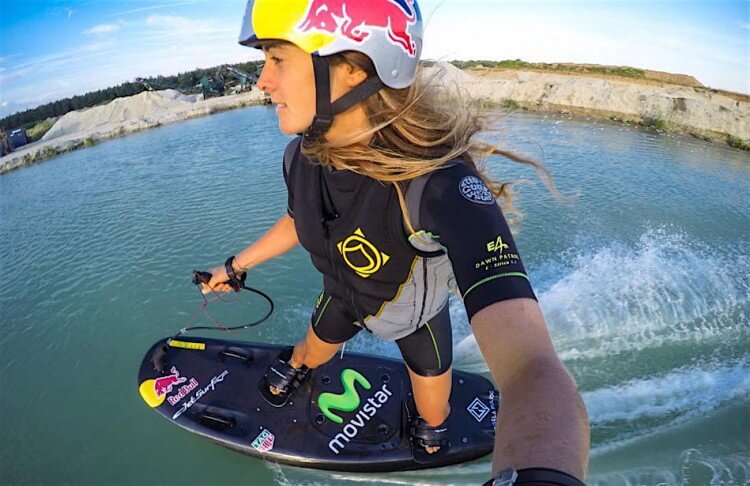 What is jet surfing? Introducing the latest adrenaline-filled watersport
We're guessing you've never heard of jet surfing until now. (Neither had we!), Well, put simply, a jet surf is a motorised surf board. That means you can carve the water without the need for waves, which makes it the prefect sport for the UK, with all our inland waterways and freshwater lakes.
Who is behind JetSurf in the UK
One company has brought the JetSurf to the UK and they are offering introductory and full day JetSurf courses. They've really invested in this crazy new watersport and having done the training at the JetSurf HQ in the Czech Republic, they are now officially the country's first and sole importer of jet surfs. As you can imagine, everyone in the team is pretty good at this jet surfing lark, so they love nothing more than to introduce the sport to the likes of you and us.
What makes jetsurfing different to other waterborne board sports?
If you're having trouble seeing the difference between a JetSurf and other board sports, well, we can tell you that board itself is pretty much like a wakeboard, except they are directional – that's to say there's a front and rear. They are also thicker around the middle, as this is where the two-stroke engine is housed to give you the power to bust those moves over the water. And that's the key difference here. You don't need waves, a cable tow or a boat to ride a JetSurf.
The board has two fixed bindings or foot pads, which is where you slot in your feet to stand on the board, with the power literally between your feet. If you're wondering how the speed is controlled, you have a hand-held throttle that you squeeze to go faster and release to lose the power. And we hear you can reach speeds of up to 30mph.
See, we told you jetsurfing was pretty crazy didn't we?!
So, the next question is how do you actually ride one of these things?
First up, you need to know 'which way round you are', that's to say whether you ride with your left foot or right foot forward on the board. In snowboard speak that's regular or goofy. If you've not done any board sports before you won't know which will be your leading foot, so this is where the coaching assistance of the Jet Surf instructors comes in.
After stance is sorted, the key to being a smooth jet surfer is balance. You'll start off in the water and the first challenge is to be able to get up to stand not the jetsurf. Then it's a question control as you gently apply throttle. Too trigger happy and you (and the board) will be launched into the air, too hesitant and you'll go nowhere and probably fall off!
Once you're up and moving forward it's all about honing your stance on the board and then perfecting your front and heel-side carves. Eventually you'll be able to give it some gas, blast through the water and carve smooth turns like surfing pro.
Will jet surfing actually take off?
Well, if you're wondering if this jetsurf lark is just the latest gimmick, this is the moment to tell you that there is a World Cup Grand Prix Jetsurf series. Jet surfers race against each other around the buoyed course to see who can cross the line first. It's a mass start, so it makes for a thrilling race to watch, let alone participate in!
We're not sure if you'll reach World Cup race standard on your first outing on a jet surf, but we reckon those crazy dudes in our product department were right – this IS the future of water sports right now. But of course, that got us thinking, what's the next-next Big Thing?
Take a look at mad Frenchman Franky Zapata setting a Guinness World Record for the longest flyboard flight…could this be coming soon to IntotheBlue.co.uk?