Win Father's Day – Less Than A Week To Go!
There's less than one week to go for our Win Father's Day competition which closes at midday on Thursday 16th June 2016! We asked you to let us know which of the hundreds of experiences days that feature on our website you would love to send your Dad on for Father's Day and why, for the chance to actually win that very activity for your beloved Daddy – along with a £250 activity gift token for yourself while you're at it.
You have been getting in touch with us in your droves via the IntotheBlue Facebook page and using the #experienceDad hashtag on Twitter to tell us what you'd like to win for Dad. They've made us laugh, they've made us get just a hint of the sniffles and some have, quite honestly, been quite off the scale, but enough of our waffling, we're going to let you guys do the talking…
Dad loves his food (and drink!)…
As you might have guessed, food and drink is pretty high up on the list of Father's Day gift wishes. We like LeeLee Newsome's sweet request for her Dad to win one of our chocolate party kits, as he 'loves making chocolate  with his grandkids'. Then there's cheeky KatDray who suggested a wine tasting and lunch for her Dad as 'drinking wine and eating are two of my Dad's super powers'! Whilst Teresa reckons her Dad is a Masterchef in the making who'd love some home cookery lessons.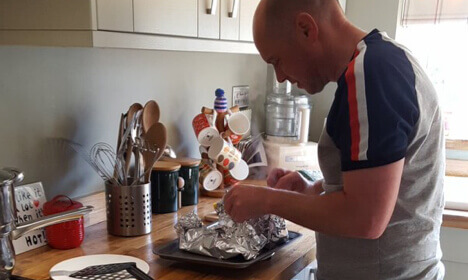 Turning Daddy into Masterchef Daddy with cooking lessons
Then there's Rick Haswell who'd like to send his Father on a visit to the Shard, followed by a Thames lunch cruise. He really showed us his creative side by penning a lovely little poem just for him:
For King and Country in World War 2
Stationed in France with his RAF crew
Ninety not out and with a mind of his own
Though he's yet to embrace the mobile phone.
Dad's wise, generous and extremely funny,
But he dragged his heels over pocket money.
He can use the toaster and open a jar
But boiling an egg is a step too far.
On TV's Countdown he found his drive
One from the top and any other five
Dad's never afraid to tell it straight
He's smart, showed and my bestest mate.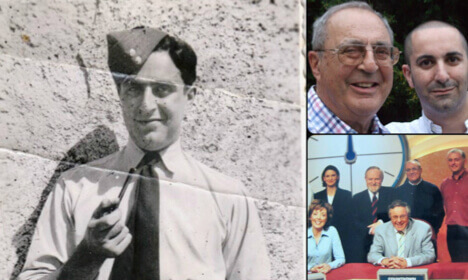 Rick Haskell's collage for his very special Dad
You can't go wrong with planes for Daddies…
It seems Daddies everywhere love anything aviation related. Carolynn Woodlow's simple request for a Tiger Moth flight her her Father as 'he used to fly and misses it dreadfully'caught our eye. And there's more nostalgia from Natalie Morgan who remembers watching her Dad having a flying lesson when she was about four years old and says: 'That was about 27 years ago now and I'd love Dad to have a Pilot Course'.
And we think this is a fab photo of Mrs JTea's Dad dispatching a fighter jet with his decidedly less animated USAF buddy. His daughter thinks a session in a flight simulator would be just the ticket for a man who 'is a huge fan of planes'.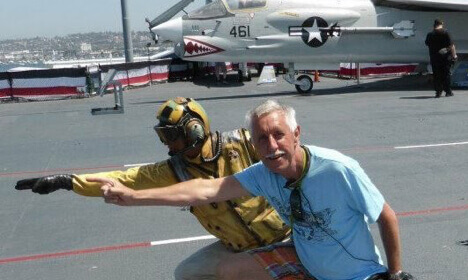 Flying experiences galore for people like Mrs J Tea's Dad who loves planes
Father's Day equals family time…
For many, Father's Day is about celebrating as a family with the kids. We couldn't have put it better ourselves with Zozza77 saying her hubby would love a stunt driving day, 'as he's practising already with our daughter'! Lovely photo.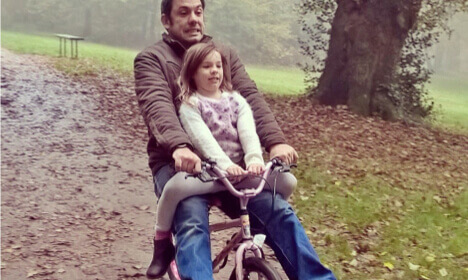 Busting some stunt riding moves ready for a Father's Day stunt driving experience
Likewise, Prerna Gupta says her little girl would love to join Daddy on a VIP tour of London and sent us another lovely piccy of Dad and daughter.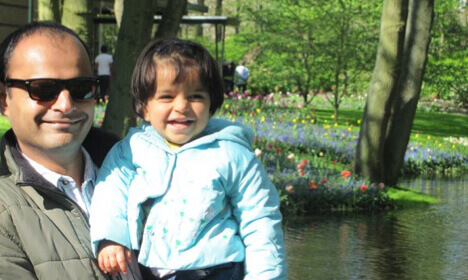 Prerna's daughter would love to take her Daddy on a VIP tour of London
Richard Evans is a Dad who got in touch himself telling us why he'd love a luxury tree house break for Father's Day: 'My Dad died when I was young and now I'm a Dad myself, if I won I'd get to spoil my little ones and take them with me, which is what it's all about'. Now that one got our ladies in the IntotheBlue office putting their heads to one side and saying 'Ahhhh', whilst the gents shifted uncomfortably in their seats!
There's not much that we can follow that one up with, so we'll save the last word for KeenBean who nominates her Dad to go Segwaying and asks 'is Segwaying even a word?!' we'd like to think that in the heady world of fun-packed experience days it is indeed very much a word, KeenBean!
And a reminder how to enter the IntotheBlue Father's Day comp…
Keep your ideas coming in via Twitter #experienceDad and on our Facebook page for the chance to win the gift experience your Dad would love. The comp closes at 12:00 on Thursday 16th June 2016 and one winner will be drawn to win the activity they nominated and a £250 activity gift token. There are two runner's up prizes of a £50 token too. Good luck and we'll announce the winners on social media next week.