The 2016 IntoTheBlue National Experience Week winners announced!
National Experience Week 2016 may have left the building, but the fun has only just begun for the lucky winner of our IntotheBlue Wish List competition and the two winners from our social wall that ran for the duration of National Experience Week.
You could describe National Experience Week as inspirational, aspirational…motivating even, but let's be honest, it's about winning a £100 activity gift token or even better, the main prize valued at well over a £1000.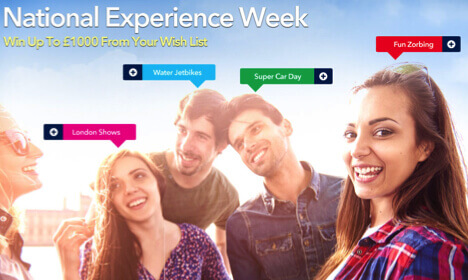 National Experience Week 2016 winners win big!
So, drum roll please for Rachel Barnard who has won over a £1000-worth of IntotheBlue activity gift experiences!
And what did Rachel do to grab this gargantuan goodie bag of great things to do? Well, we asked you to create a Wish List of the experiences you'd most like to go on. It's not an easy chore as we have nearly 1000 experience days to choose from on our website, but Rachel came up trumps with her selection of days out and activities.
The winning wish list of wonderful things to do
Rachel has clearly been planning a day out in the capital, as her list includes such delights as Climbing the O2, which is proper daredevil stuff as you literally walk over the roof of the 02 Arena, going on a vintage open top bus tour, visiting the Tower of London followed by afternoon tea with the obligatory warm scones and clotted cream, as well as tickets to a top West End show with dinner for two.
Now that sounds like a great weekend in London and with a hot air balloon ride, a spa day and a Harry Potter studio tour thrown in too, it looks like Rachel will be busy for some time to come enjoying each and every one of the experiences she added to her wish list.
When we told Rachel she had won she said: "I initially spotted the competition on my Facebook feed…I'm absolutely thrilled to have won and can't wait to tell my teenage daughter when she gets home from school as a lot of the activities I chose I know she will enjoy." And our lucky winner recommends friends should look out for National Experience Week 2017 to see if they can win big like her too!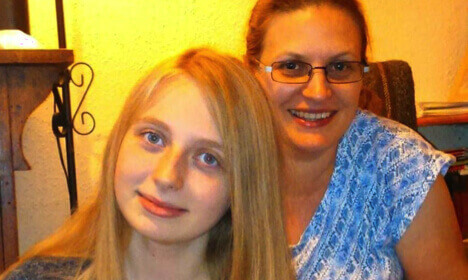 Mum and Daughter will be enjoying their experiences together
Throughout National Experience Week our social wall was up and running, allowing you to post photos, ideas and messages about how you were planning to spend National Experience Week. It looks like many of you had a fab time doing some different and we loved reading your posts.
We'd like to congratulate Rachael Scott who sent us this brilliant picture of her daughters experiencing their first roller coaster ride. The mum of two wins the first of our £100 activity gift token to be spent on any of the experiences on our website.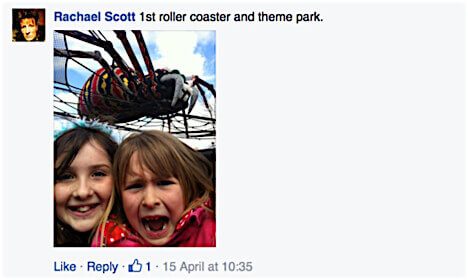 Experiencing a roller coaster ride for the first time!
Rachael loved our competition, saying: "I think National Experience Week is a great way to encourage people to try something new and it doesn't have to cost the moon." Rachael, we couldn't have put it better ourselves. And as to how she feels about winning: "I think the faces of my children from our entry says it all – they are going to be extremely excited and will be planning their adventure!"
Over in the Twittersphere, Doug Mellon caught our eye with his handiness in the kitchen, tweeting about the fact that he had tried (and clearly succeeded) in making steamed milk buns for the first time. What can we say – simple and delicious and proof that new experiences don't necessarily involve high altitudes or high speeds!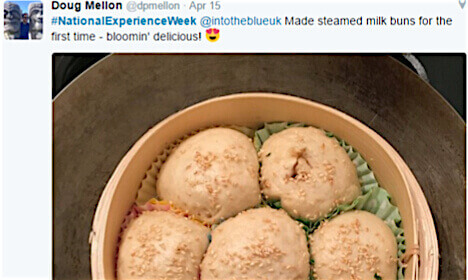 Lovely milk buns Doug!
When we told Doug about his prize-winning milk buns he quipped: "I've never made them before. I was so pleased with myself when they turned out – they tasted good too. Maybe I'll use my token to book a spot on a bakery course!". He added that: "national experience week is a great way to inspire people to try something new, it definitely gave me a push to get into the kitchen!"
Doug, a well-earned £100 activity token is also on the way to you.
Well, that's all for National Experience Week 2016, which ran from the 11th to the 17th April – look out for another brilliant competition with tons of prizes in 2017.