Alternative Christmas dinner desserts – what desserts go with traditional roast turkey?
When you don't like all those heavy-fruit desserts that are traditionally served at Christmas, what can you do to round off your festive meal with a flourish? That's the question we are tackling today..
Dear Agony Auntie Caroline
I categorically hate Christmas pudding, Christmas cake and mince pies. I think it's something to do with all that alcohol-soaked dried fruit that just makes these traditional desserts a no-go zone for me. And don't get me started on Brandy Sauce!
So, my question is: have you got any bright ideas on what else I can serve to our gathered friends and family on Christmas Day? I'm hoping I don't have to go down the Black Forest Gateau or Arctic Roll route…
 AMANDA
Well, Amanda, you've come to the right place to ask about desserts, as I'm a self-confessed chocoholic who's blagged her way on to pretty much every Chocolate making experience this company has to offer.
That's why my immediate thought is to recommend a Yule Log, or, as the French say, a 'Buche de Noel'. The great thing is they still look Christmassy as it's a fallen log that can be adorned with snow, little animals, sparkly things and so on, but there's not a hint of that heavy fruit filling anywhere, in fact it's chocolate and cream pretty much all the way.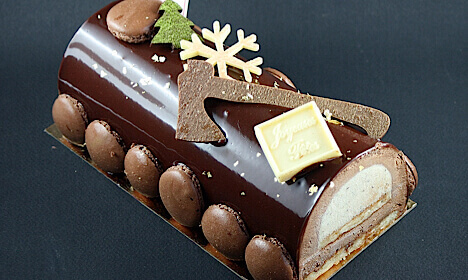 The French choc-fest that is the Buche de Noel
Sometimes they are made with red fruit ice cream and sorbet in a Semifreddo kind of way and usually mixed with white chocolate and cream, which means you need to keep it in the freezer and then the fridge before serving. But in all cases the calorie count is E-NORM-OUS, but who cares, it's Chrimbo.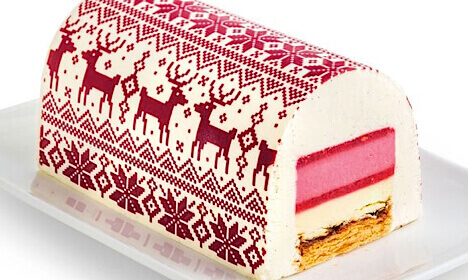 Would white choc Buche go with Christmas dinner? Oh yes!
If that seems all too much of a cream and chocolate-fest to you, I took a look at what other nations traditionally have for Christmas dinner dessert.
Over in Germany the big celebration is, like in France, in the evening on the 24th. In the land of Angela Merkel you can expect Stollen for afternoon tea (that marzipan and fruit sort of loaf) which clearly would be a non-starter for you as it is too much of a close relation to our Christmas cake.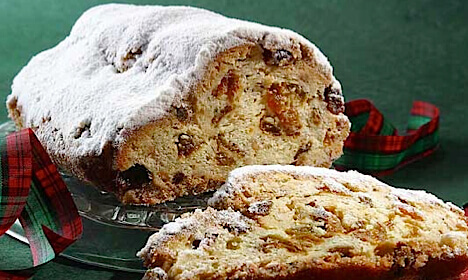 The traditional German Stollen cake
After a dinner of roast goose with red cabbage and potato dumpling, dessert usually takes the form of something cinnamon, orange zesty and apple-y. Again one of those tarts probably won't cut the mustard on your dinner table, so I moved on to Italy.
The Italians kick off Christmas festivities on the 24th with an almighty feast, which includes fish and seafood courses, the inevitable pasta courses and then desserts such as Panettone sweat bread. We love the Pandoro, which is a star-shaped sweet bread from Verona and makes a lovely gift to give as they are always wrapped in fancy cardboard boxes with bows on. Oh and for an extra bit of indulgence you can cut a hole in them and fill it with finest Italian Gelato or cream!
A delightful Italian Christmas dessert – Pandoro
Last but not least, I took a look at what our American friends across the atlantic do. Of course, the Turkey has already been roasted and devoured for Thanksgiving, so yuletide nosh tends to be roast ham or beef. The meal is then rounded off with something like a Pumpkin Pie or the good old Apple Pie.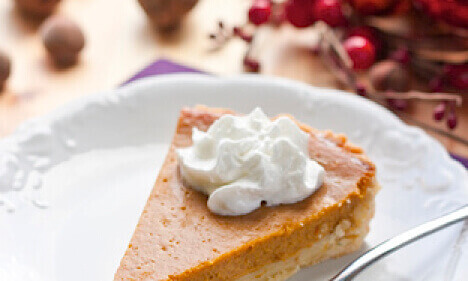 My, my it's a Pumpkin Pie for dessert
So there you go. I rest my case that the best option is to go with the Franco-Chocolate delight that is a Buche de Noel – all the chocolate and none of that ghastly dried fruit! Bon appetit as they say!